---
Spay and Neuter Transport
We partner with humane organizations and individuals within a 100 mile radius of our clinic location to provide affordable spay and neuter services. Our van enables us to transport shelter and owned animals from a remote destination to our clinic for surgery and return them back the following day. For Washington County area, please contact Paws & More to schedule your appointment. Dubuque County area is scheduled through the Dubuque Regional Humane Society (ask for Carla).
Current Transport

Contact Number

Paws & More (Washington County)
(319) 653-6713
Dubuque Regional Humane Society
(563) 582-6766 (ask for Carla)

Muscatine Area Transport

(563) 263-7358 (Muscatine Humane Society) to schedule cats.

(563) 264-0822 (For Pet's Sake) to schedule dogs.
ITRAP 
Iowa Trap-Neuter-Return Resource Assistance
Designed to provide individuals with the necessary resources and teach them humane effective trap-neuter-return tactics for community cats.
Resources include: TNR presentations, DIY shelter making workshops, trap rentals, information regarding the importance of an ear tip, Feral Freedom Fest, and advice about caring for community cats. We encourage clients to return spayed/neutered cats to their original location and promote Trap-Neuter-Return to Field for shelters and municipalities.
---
Love for Pets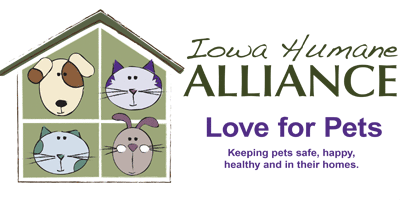 Provides individuals in targeted, under-served neighborhoods with the animal health resources necessary to keep their pets safe, healthy, happy, and in their homes. We demonstrate care and compassion through a non-judgmental approach and foster the human-animal bond.
Love for Pets Vision: To create a spay and neuter culture within under-served areas, while eliminating the discrimination of pet parents based on their socio-economic status.
---
Spay Iowa
A state-wide referral program that provides individuals with affordable spay and neuter options and directs them to the nearest resource within their community or region.
---
The IHA Animal Alliance Network
Designed to facilitate unconditional positive regard among animal welfare organizations to respect each organizational mission, recognize their strengths and maximize vital resources. Partners are encouraged to attend informational sessions, benefit from reduced cost services, participate in promotional and fundraising events, and exchange progressive ideas to further advance the care of animals.